Summary
This professional resource outlines how providers and commissioners can prevent deaths from drug abuse.
Scale of the problem
There were 2,300 drug misuse deaths registered in England in 2015. This represents an increase of 8.5% on the year before and the highest figure on record.
A drug misuse death is defined as a death where:
the underlying cause is drug abuse or drug dependence
the underlying cause is drug poisoning and where any of the substances controlled under the Misuse of Drugs Act 1971 are involved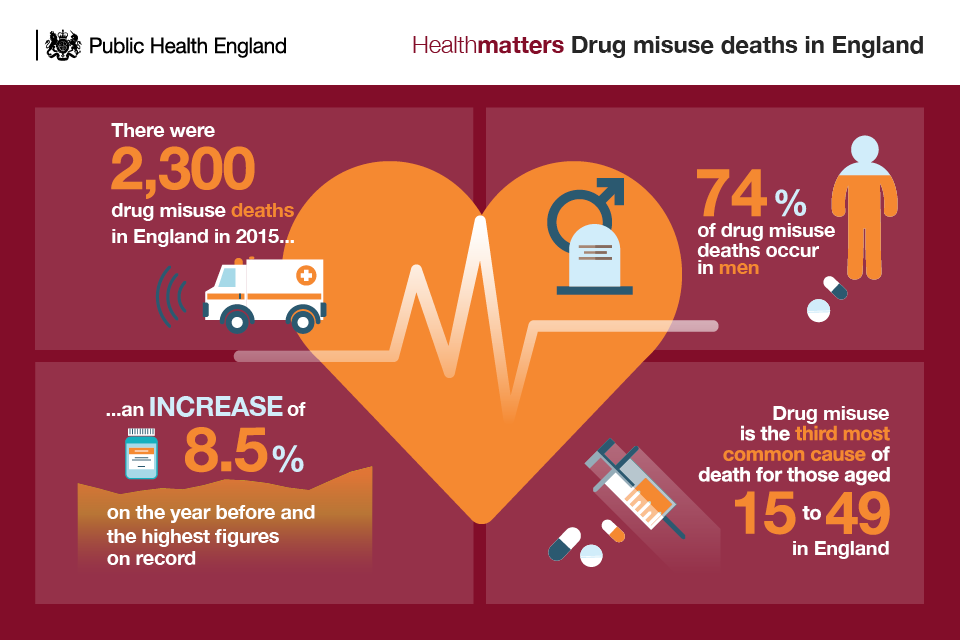 The Office for National Statistics (ONS) publishes data on deaths from drug poisonings in England and Wales and is broken down by cause of death, sex, age and substances involved in the death.
Deaths involving opioids (such as heroin) account for the majority of drug poisoning deaths. Heroin related deaths in England and Wales have more than doubled since 2012 to the highest number since records began 20 years ago.
There are also a small but rising number of deaths involving:
new psychoactive substances
prescription and over-the-counter medicines, including pregabalin and tramadol
Further analysis by PHE found that alcohol is mentioned in around a third of drug misuse deaths annually in England, and that heroin-related deaths increasingly also involve other substances.
The majority of drug misuse deaths, 75% in 2012 in England and Wales, are accidental poisonings. The number of suicides among drug misuse deaths is small but steadily rising. PHE's analysis suggested that suicide was more common in particular groups. Specifically, 38% of drug misuse deaths occurring in 2012 among those aged 45 or over were classed as suicides, as were 34% of deaths among women.
For Full Details: www.gov.uk/government/publications/health-matters-preventing-drug-misuse-deaths/health-matters-preventing-drug-misuse-deaths