Increasing or higher risk drinkers
In England, 10.4 million people consume alcohol at levels above the UK CMOs' low-risk guideline and increase their risk of alcohol-related ill health.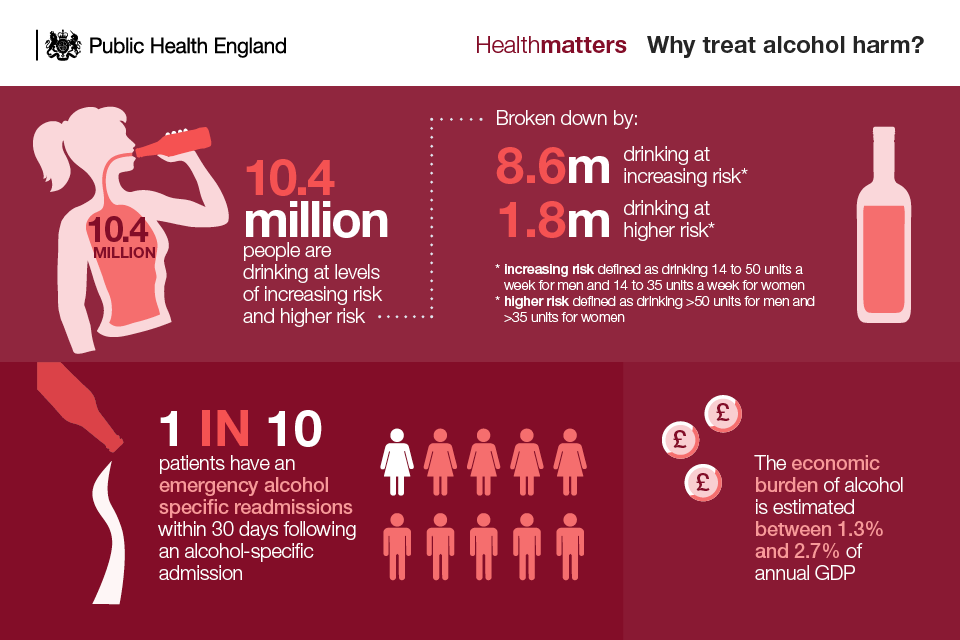 Alcohol misuse contributes (wholly or partially) to 200 health conditions leading to hospital admission, due either to acute alcohol intoxication or to the toxic effect of alcohol misuse over time. Conditions include:
cancers
cardiovascular conditions
depression
liver disease
There are nearly 22,500 alcohol-attributable deaths per year. In 2015 to 2016, there were 1.1 million admissions related to alcohol consumption, of which alcohol was the main reason for admission for about 339,000 cases.
The economic burden of alcohol is estimated between 1.3% and 2.7% of annual GDP. Around three-quarters of the cost to the NHS is incurred by people who are not alcohol dependent, but whose alcohol misuse causes ill health.
Alcohol identification and brief advice (IBA) can identify and influence patients who are increasing or higher risk drinkers, but the level of implementation is varied across the country and nowhere near the optimal large-scale delivery required to significantly impact on population health.